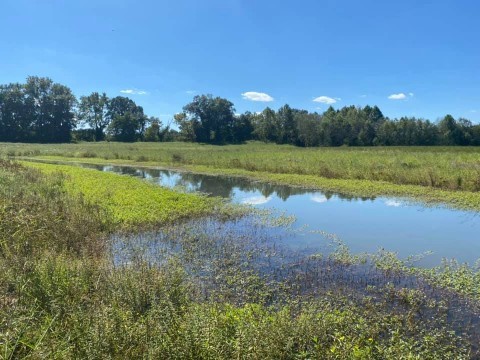 A new recreation area the size of Central Park is coming to the Middle Fork of the Forked Deer River between Jackson and Three Way in a project that will combine opportunities for outdoor recreation, flood prevention, and environmental education.
The 850-acre nature area is expected to be open by late spring or early summer of 2022 and will boast nearly five miles of paved trails for hiking and biking, opportunities for kayaking and canoeing, a 10-acre lake stocked for fishing as well as fishing spots along the river, wildlife areas, and even a place to train retrievers for wetland hunting. While the area will offer plenty of opportunities for a variety of recreation, the project actually began as part of flood mitigation efforts on the Forked Deer River.
David Blackwood, an engineer of the West Tennessee River Basin Authority, said the area has been used primarily for farming in the past century, but major flooding in the recent past meant it was time for a change.
"West Tennessee in the early 1900s was channelized," Blackwood said. "They dug all our rivers straight, except for the Hatchie. They drained the land for agriculture, and in this particular area they have always had a tough battle with nature. It is so flat and is so low. The people farming the land basically threw their hands up after the 2010 floods on being able to keep their levees. The land wasn't great for farming any more, but is in a flood zone, which presented the question of what to do with it."
Local officials worked with the Nature Conservancy, TWRA, and received flood resiliency and mitigation grants to turn the former farmland into something that could benefit the entire community.
"At its heart, this project is about flood resiliency along the Middle Fork of the Forked Deer River," he said. "The park is downstream adjacent to a major urban area in Jackson. One of the factors in the resiliency grant is how to tie this project in with the community. We realized it could be a really cool, big recreational area. We were funded through the HUD NDRC grant program."
The recreation area will feature microcosms of the various habitats found throughout West Tennessee including wetlands, upland prairies, bottomland hardwood forests, cypress groves, woodlands, grass marshes, and an oxbow lake.
Within these habitats, the recreation area will protect two nationally endangered species – the whorled sunflower and Indiana bat – along with several threatened species including the northern long-eared bat, Lamance iris, blue sucker, red star-vine, and lake-bank sedge. The land is also home to a grove of pawpaws – the largest edible fruit tree native to North America – that officials are considering opening to the public for picking in the future.
Blackwood said this diversity of land not only helps with flood mitigation but also provides a valuable resource to showcase the natural wonders of West Tennessee.
"The other component of this project is education," he said. "We are using this to educate on flood management, stormwater management, and all the different habitat types we have. We have a bunch of and we are reforesting as well as marshy wetlands for waterfowl. We are expecting a lot of geese, ducks, and wildlife. Since this is in the floodplain, we will have cypress groves and all the things that come with that. As you make your way along this trail, you can see all the biomes of West Tennessee."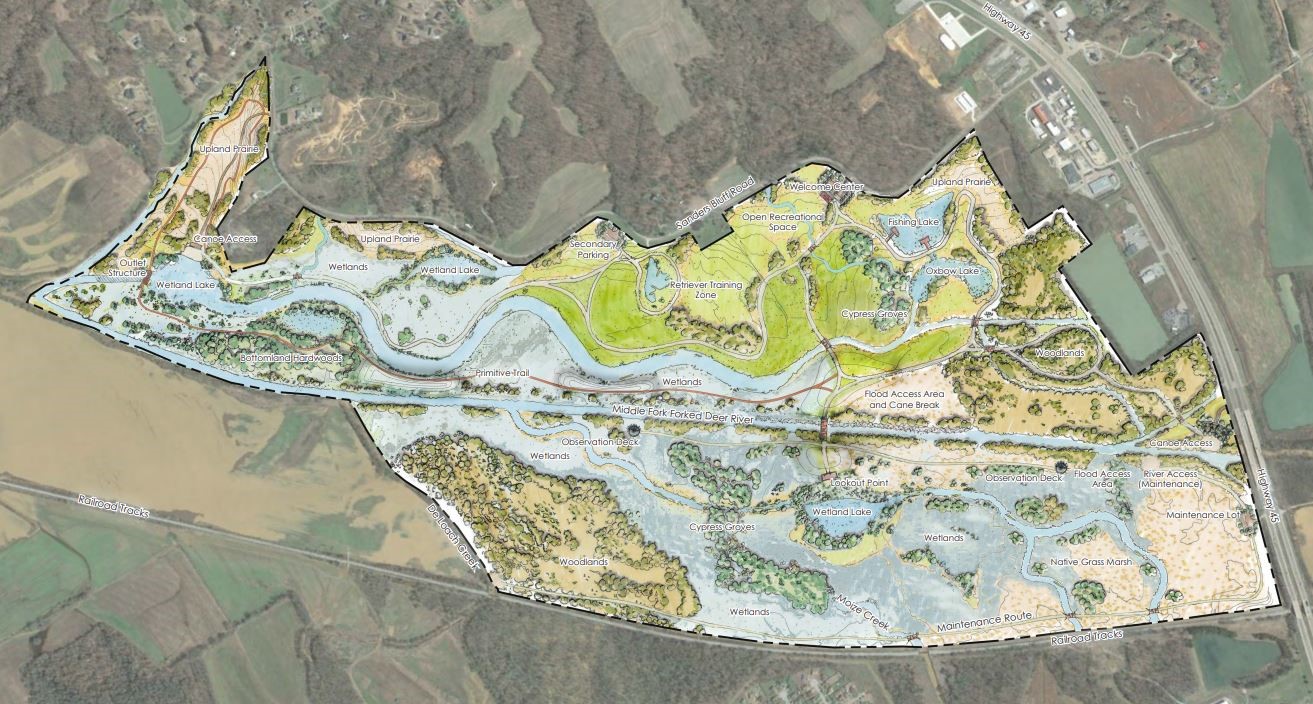 Restoring these native plants and wildlife to the area will also serve as a measure to protect nearby communities from flooding.
"All our native plants are adapted to live together," Blackwood said. "When we get away from that with invasive plants, they take over and become a monoculture. That makes the grounds underneath them unstable because you don't have that diversity of plants. By putting stormflows out on the flood plain we will catch sand and trash that come from urban watersheds. That water infiltrations, soaks in and the vegetation uses it. That water also goes into the near-ground water, which feeds the river. The river then carries more sediment away and keeps the channels clear for when floods do come along. You are basically filtering out the things that lead to floods."
Blackwood said he hopes the new recreation area not only gives local residents a chance to get outside but also to learn about the natural beauty of West Tennessee.
"It's sizeable enough you can really explore and feel like you aren't doing the same thing every visit," he said. "For me, it's great that people can get in and appreciate all the types of nature we have here. I expect the local schools to be able to bring kids out, walk a route, and learn about biology and nature."
Three Way Mayor Larry Sanders said the city is already seeing benefits from the flood mitigation efforts at the recreation area.
"We have some stores that are still in the 500-year floodplain," he said. "This is helping the whole region as far as flood control. We've already seen some results because we had some March rains that normally floods a street in the city limits. About two or three times a year we've had to put up barricades because its flooded. Since they've work began on this area, the flood waters have not come up over that street."
There have already been some entrepreneurs inquiring about setting up new businesses to support activity in the recreation area.
"This is bound to help economically as far as people stopping to buy gas and snacks," Sanders said. "It will also create other economic opportunities for people – like canoe or paddleboard rentals adjacent to the park. From that standpoint, it will definitely help our local economy."
Friends of Middle Fork Bottoms Membership Form